Yama Factory 40MM Width Elegant Pure Colors Wave Organza Fishtail Ribbon Roll Manufacturer Supplier
Product Description: Organza Ribbon Roll – Add Glamour and Elegance to Your Creations
Introducing our exquisite Organza Ribbon Roll, a versatile and glamorous accessory that will elevate your creations to new heights. Crafted with precision and attention to detail, this ribbon roll offers endless possibilities for adding a touch of elegance to any project, from gift wrapping to DIY crafts and event decorations.
Luxurious Material: Our Organza Ribbon is made from premium quality organza fabric, renowned for its exquisite sheen and delicate texture. It exudes a luxurious feel and elevates any design, bringing an extra element of sophistication to your creations.
Endless Versatility: With this Organza Ribbon, your creativity has no bounds. Whether you're embellishing gift boxes, creating stunning hair accessories, or adding a decorative touch to wedding or party decorations, this ribbon roll is a perfect choice.
Elegant and Shimmering: The organza material beautifully catches the light, creating a fabulous shimmer effect that instantly catches the eye. It adds a touch of glamour and elegance to any project, making it ideal for special occasions and upscale events.
Contact Us To Get More Wave Organza Fishtail Ribbon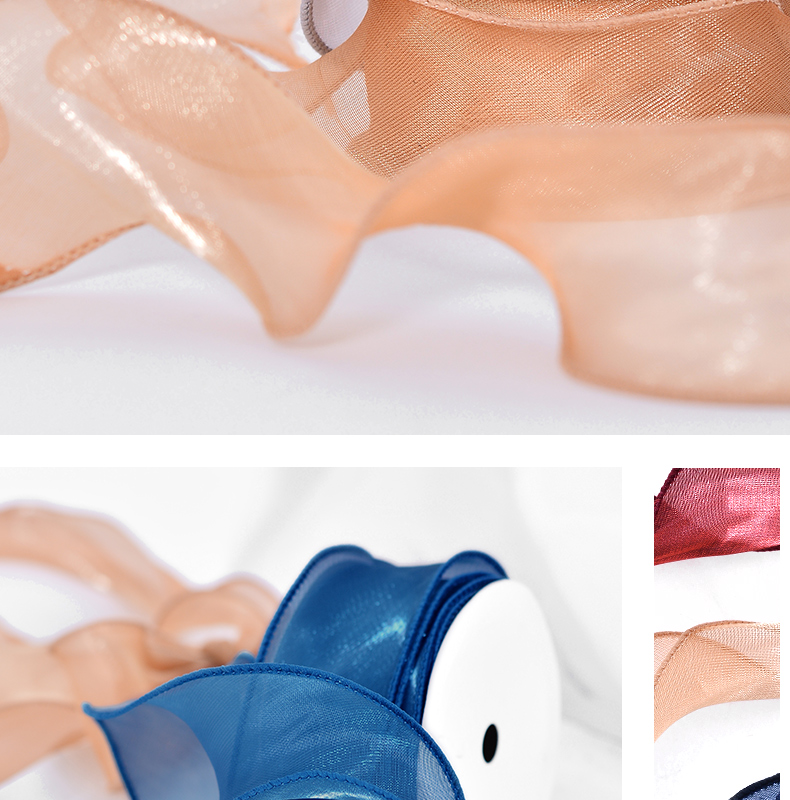 Durable and Flexible: Our Organza Ribbon Roll is designed to withstand the demands of various projects. It's crafted with durability in mind, ensuring it holds its shape and stays intact even after multiple uses or being tied into intricate bows.
Wide Range of Colors: We offer a wide range of vibrant and on-trend colors, allowing you to find the perfect shade for your creative vision. Whether you're looking for a classic and timeless hue or a vibrant and bold color, there is an option to suit every style and occasion.
Easy to Work With: The Organza Ribbon Roll boasts a lightweight and flexible nature, making it easy to handle and manipulate. It ties beautifully into bows, drapes effortlessly, and can be folded or twisted to create unique designs and decorative elements.
Perfect Size and Length: The generous length of our ribbon roll ensures you have plenty to work with for your various projects. Each roll is designed to provide ample ribbon for multiple uses, allowing you to indulge in your creativity without limitations.
Unleash your creativity with our Organza Ribbon Roll – a timeless accessory that brings glamour and elegance to any project. With its luxurious material, versatility, wide range of colors, and exceptional quality, it's the perfect choice for all your crafting and decorating needs. Elevate your creations with the enchanting beauty of our Organza Ribbon Roll and make every occasion truly extraordinary.
Other high-quality product recommendations:Double Twill Stitch Ribbon 9/19/25/38MM Manufacturer 26724