Welcome to our Christmas Wired Ribbon Wholesale collection – the perfect solution for adding a touch of elegance and holiday cheer to your decorations. Whether you're a retailer or a passionate holiday enthusiast, our wholesale wired ribbon is here to elevate your holiday creations and bring joy to your customers or loved ones.
The Christmas series ribbons adopt red, green, gold, and silver as the main color of Christmas, matching Christmas elements to make the festive atmosphere more intense. Adopt thread, high-density ribbon with printing used as the bottom belt, gold stamping, and other processes, which is smooth, wrinkle-resistant, and not easy to be deformed, also with comfortable hand feel makes the ribbon full of connotation. 15 styles, 3 widths ( 0.39″ 0.59″ 0.98″ ) for you to choose from, which can add texture to your Christmas dressing and give you a blessing of love.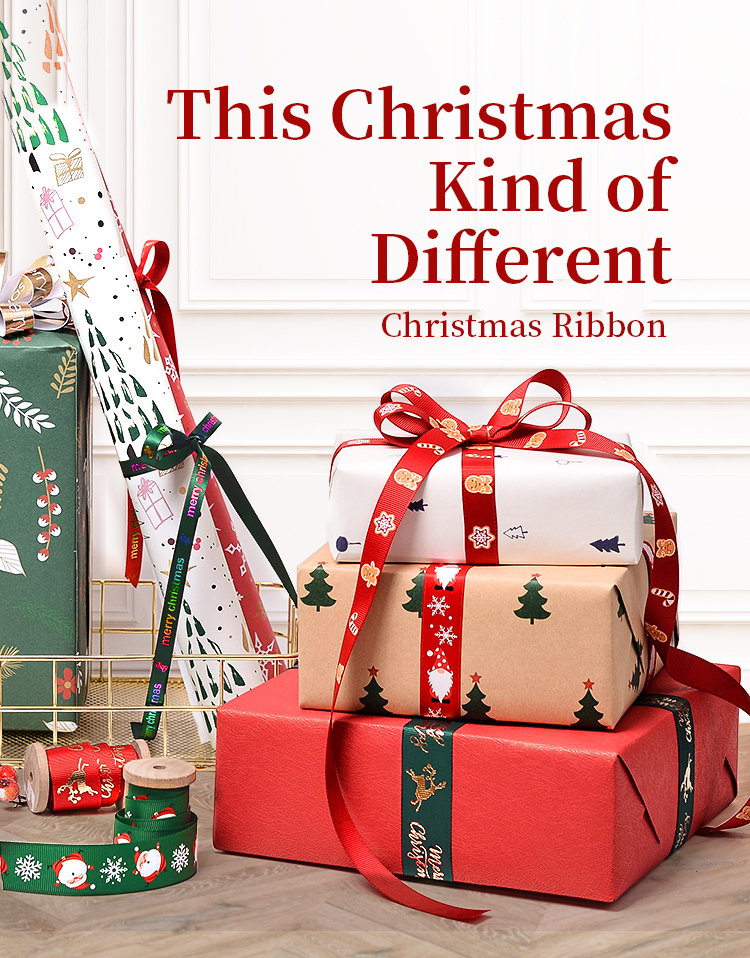 Our Christmas Wired Ribbon Wholesale collection offers an extensive variety of sizes, colors, and designs to cater to different tastes and preferences. From classic red and green combinations to vibrant metallic shades and intricate patterns, our wired ribbons will ignite your creativity and inspire unique holiday decorations. With our wide selection, you can bring your vision to life and create stunning bows, wreaths, garlands, and more.
We understand the importance of durable and long-lasting holiday decorations. That's why our Christmas Wired Ribbon Wholesale collection is crafted from high-quality materials to ensure both visual appeal and durability. Our wired ribbons are designed to hold their shape, resist fraying, and maintain their beauty throughout the holiday season and beyond. Create stunning and elegant holiday displays that will capture the hearts of your customers or guests.
Our Christmas Wired Ribbon collection offers versatility that extends beyond traditional ribbon uses. From embellishing Christmas trees, wreaths, and garlands to adding extra charm to gifts, centerpieces, and DIY crafts, our wired ribbon is a must-have for versatile holiday decorating. Its ability to hold its shape and stay in place makes it a reliable and stylish choice for any project.
We understand the importance of affordability, especially when purchasing in bulk. That's why our Christmas Wired Ribbon collection offers competitive pricing for larger quantities. Enjoy significant cost savings without compromising on quality, allowing you to stock up on the wired ribbon you need to create stunning holiday decorations without breaking the bank.