Gift Wrap Ribbon Bulk Violet Series 28800 Polyester Double Face Satin 
Introducing the perfect finishing touch to your holiday gift wrapping – our gift wrap ribbon! This ribbon is made from high-quality, durable materials, ensuring that it will hold up under the stress of wrapping and unwrapping, without losing its shape or sheen. The ribbon is soft to the touch and has a silky texture, making it a delight to handle and adding a touch of luxury to your gift wrapping.
YAMA Polyester Satin Ribbon is made of 100% high quality polyester filament yarn. With the characteristics of bright color, fine texture and grain, shiny and smooth, imported yarn and clean dye, it is soft just like the silk and wins the love of ornament industry and gift packing industry.
Material: 100% polyester
Colors: 196 colors in stock, Pantone color check and customer's color are available.
Packing: 2mm in width, 700 yards/roll
3mm in width, 500 yards/roll
5mm in width, 300 yards/roll
6mm-100mm in width, 100 yards/roll
Lead Time: stock sale for YAMA color, 5-7 days for DTM color.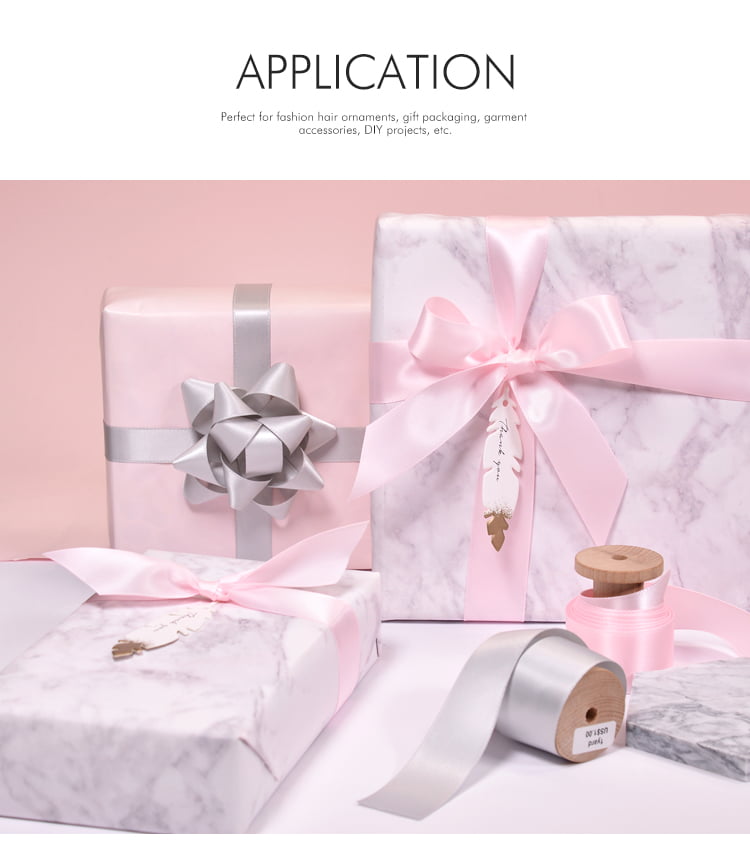 This gift wrap ribbon is available in a variety of colors and patterns, so you can choose the perfect one to match your holiday décor. Whether you prefer traditional red and green, or something more modern and playful, this ribbon has options to suit all your gift wrapping needs.
Measuring at 3/8 inch wide and 50 yards long, this ribbon is the ideal width for wrapping gifts, creating bows, and adding accents to your decor. The long length of the ribbon allows you to wrap multiple gifts without running out, making it a great value for your holiday decorating budget.
This gift wrap ribbon is also incredibly easy to use. The ribbon can be cut to the desired length, making it simple to wrap gifts of any size. The ribbon is also easy to manipulate, so you can create intricate bows, loops, and other designs with ease.
In addition to its ease of use, this gift wrap ribbon is also versatile. It can be used for wrapping gifts, decorating wreaths and trees, and adding a touch of holiday cheer to your home décor. Whether you're wrapping gifts for family and friends, or just looking to add a touch of holiday magic to your home, this ribbon is the perfect choice.
So if you're looking for a finishing touch to make your holiday gift wrapping truly special, look no further than our gift wrap ribbon. With its high-quality materials, versatile design, and luxurious texture, this ribbon is sure to bring a touch of holiday magic to all your gift wrapping needs.