Add Festive Elegance to Your Christmas Decor with christmas ribbon wired
Transform your home into a winter wonderland this Christmas season with our exquisite collection of wired Christmas ribbons. These versatile and festive ribbons are the perfect addition to enhance the beauty and elegance of your holiday decorations. Whether you're dressing up your Christmas tree, adorning your wreaths and garlands, or creating stunning bows and accents, our wired Christmas ribbons are sure to add a touch of magic and sophistication to your festive celebrations.
Superior Quality and Durability
We believe that your Christmas decor deserves nothing but the best, which is why our wired Christmas ribbons are crafted with the utmost attention to detail and made from premium quality materials. Our ribbons feature a sturdy wire edge that adds structure and shape, allowing for easy manipulation and flexibility while maintaining their form. The wire edge also ensures that your ribbon stays securely in place, even in windy conditions, giving you peace of mind throughout the holiday season.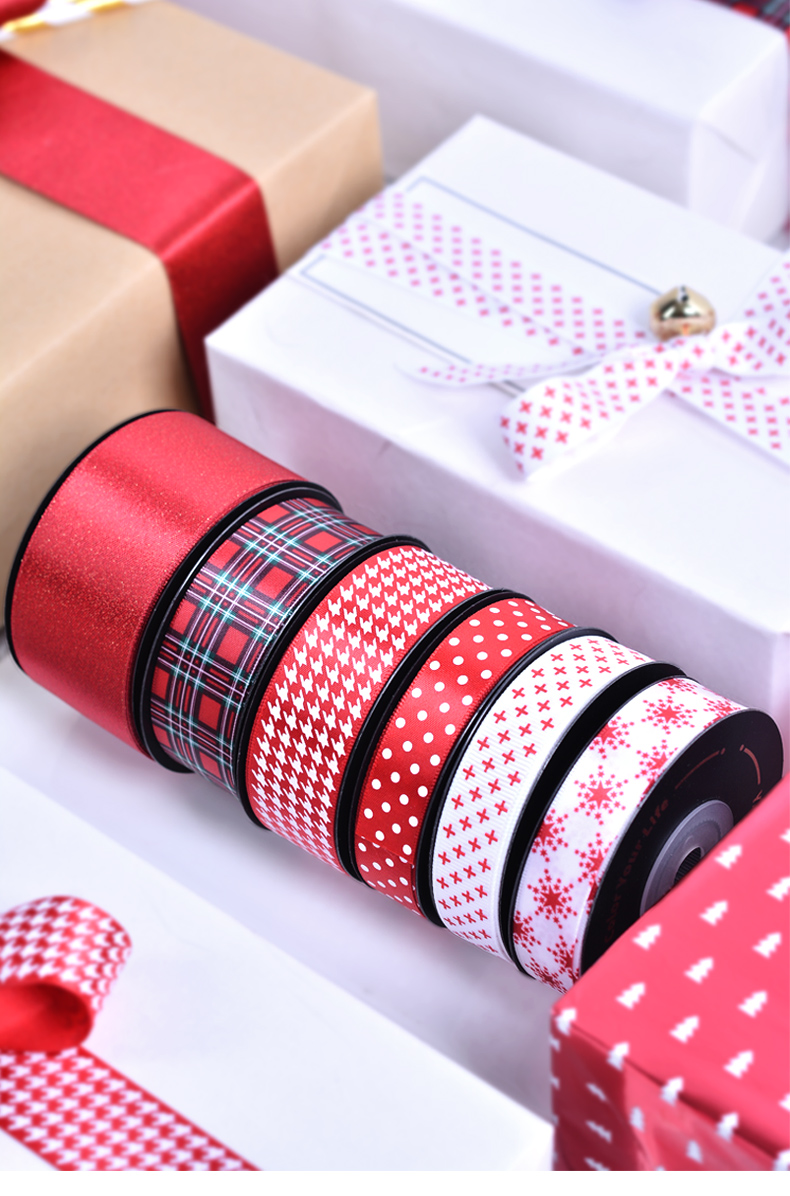 Endless Creativity and Versatility
Our collection of christmas ribbon wired offers endless opportunities to express your creativity and bring your decorating ideas to life. Whether you prefer traditional red and green ribbons, sparkling metallics, or whimsical patterns, we have a wide range of choices to suit any Christmas theme or color scheme. Use our ribbons to create eye-catching bows, wrap them around your tree for a polished look, or incorporate them into wreaths and garlands for a festive touch. The possibilities are endless, allowing you to create a truly unique and personal Christmas display.

Spread Holiday Cheer
Embrace the spirit of the season and spread holiday cheer with our beautiful collection of christmas ribbon wired. These ribbons are not just for decorating your home; they are also ideal for gift wrapping, crafting, and creating personalized holiday touches. Wrap your presents in style, embellish your handmade holiday cards, or add a touch of charm to your DIY projects. Our wired Christmas ribbons are the perfect accessory to bring joy and elegance into every aspect of your Christmas celebrations.
Make Every Detail Count
It's the little details that make a big difference, and our wired Christmas ribbons are the perfect finishing touch to elevate your holiday decor. The wired edge allows you to easily shape and manipulate the ribbon to create stunning bows, twists, and accents, adding depth and dimension to your decorations. Watch as your Christmas tree sparkles with joy and your holiday ornaments come to life with the added touch of our elegant and festive ribbons.
Other product recommendations:Ribbon for Wedding Printed Grosgrain Ribbon 10 Yards/Roll 66600