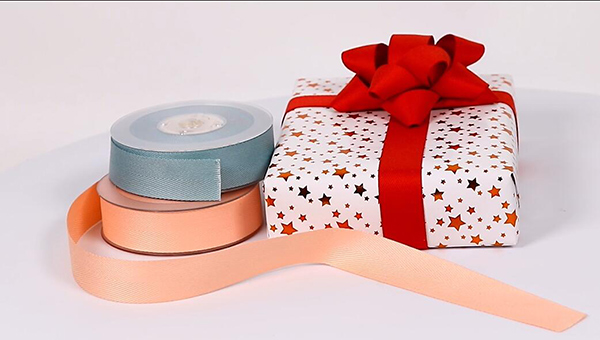 The holiday season is never quite complete without beautiful ribbons and bows decorating the Christmas tree. From identifying new ways to tie Christmas bows on presents for your loved ones to using decorative ribbons and bows for festive wrapping options at a gift store; you would realize that ribbons and bows can surely raise the aesthetics of any gift.
Ribbons and bows for the Christmas tree
Satin ribbons are mostly preferred for Christmas trees but grosgrain is also popular. The preferred size is usually those that are about three inches wide. Some tree decorations have even wider ribbons. You can use ribbons and bows on your Christmas tree in these ways:
Weave in the ribbons on to the boughs of the tree
Use a statement satin ribbon bowas your tree top
Use glittery or shiny ribbons to wrap them around the tree like streamers
Decorate the whole tree with small bows
Use a handful of big craft ribbon bowsto accentuate the tree décor
Decorative ribbons and bows for gift wrapping
When you are using ribbons for Christmas presents consider personalizing your ribbons and bows. You can do this by getting them professionally printed with a special message or your family name. Decorative ribbons and bows can also be printed in the house for a customized Christmas decoration.
Gold, red, silver and blue are the most popular Christmas colors. Additionally, you will find that there are lots of unique colors that you can use for gift wrapping. In most cases, gifts are wrapped with ribbons that are usually about an inch wide. Thinner ribbons can be used for accentuating the gift wrapping.
You can create craft ribbon bows by mixing different colors and sizes of ribbons. Use satin ribbons for the base and glittery ribbons on the top for an exquisite decoration. Printed ribbons look beautiful on solid-colored wrapping paper. Polka dots and stripes are very common for printed ribbons.
Readymade bows are also available in the market. They are very handy if you want to save yourself the hassle of making your own bows. Professionally created gift-wrapping accessories are very useful if you run a business. Printed ribbons can be used for specialized gift-wrapping for the holiday season.
Some of the best ribbon and bow styles used for gift wrapping are:

Classic satin ribbon bow
First and foremost, tie a simple knot on the ribbon. Loop one end of the ribbon leaving a tail (the size of the tail can depend on your preference). Holding down the loop, create a second loop on the other end of the ribbon. Leave a tail of the same size. Take the second loop around and underneath the first loop. Pull both the loops to secure the bow. If you pull any of the ends then the bow will automatically open. Additionally, you can use small Christmas ornaments or a holly to give it the holiday touch.
Double loop bow
Take a small piece of ribbon and fold it into a loop. Place it on top of a bigger piece of ribbon which is also folded into a loop. Secure the two ribbons with some glue.  Take a third ribbon which can be of the same color or a contrasting color. Wrap it around the center of both the looped ribbons. To complete the bow, use glue to secure all the three ribbons. Your double loop ribbon bow is ready to go on a gift.
Flower bow
Use a wide ribbon for this type of bow. Ideally a ribbon which is one inch or more is suitable. Wrap the ribbon around the palm of your hand 7-8 times. Remove the ribbon from your hand and fold it into half. Cut small triangle on both the edges of the folded ribbon. Open the fold and use a narrow ribbon to tie the ribbon on the center. Once the ribbon is secured, start opening each loop to puff it up so that it takes the shape of a flower. Use glue to stick it to your gift. You can trim of the narrow ribbon tails.
Craft ribbon bows for home decorations
While ribbons and bows are common for gifts, you can also use craft ribbon bows for decorative purposes. They can look beautiful on the fireplace where you would hang a stocking for Santa. Or you can use satin ribbon bows to create your holiday wreath.
Ribbons and bows can also look beautiful when used to decorate the dining space. You can use bows on the chairs and decorate the centerpiece with ribbons and bows too. This is what makes the holiday season so special.  You can experiment with different designs and styles for your home décor for Christmas using a variety of ribbons, bows and Christmas ornaments.
Satin ribbon bowfor children's dresses
Lastly, a satin ribbon bow can be perfect for handmade children's dresses for Christmas. You can embellish your children's dresses according to your Christmas theme. Small bows can even be used to embellish the shoes to match the dress design.
If you are looking for ways to creatively use ribbons and bows, then there are several options to include them during the holiday season. We have discussed some of the most popular ways in which craft ribbon bows are used, but there are some very eclectic ways too. From styling your dining chairs with bows to using narrow ribbons on the stems of your wine glasses, there can be a lot to explore.
Additionally, if you wanted to take your Christmas decoration up a notch then you can consider personalizing the ribbons too. You can print unique messages on the ribbons or use printed polka dots and stripes on the ribbons for a special look.
If you run a business then you can consider buying wholesale ribbons for bows and getting them professionally printed with your brand name and logo. Additionally, you can use holiday specific message like "Merry Christmas" and "Season's greetings" on the ribbons and bows to make your customers feel special.