Yama Ribbon 16mm Width Rural Character White and Red Christmas Ribbon
Let's explore the enchanting benefits of our Wired Christmas Ribbon:
Our Wired Christmas Ribbon is designed with wired edges that make shaping and molding a breeze. Create flawless bows, perfect twists, and elegant loops with ease. Whether you're decorating your Christmas tree or crafting festive wreaths, our ribbon holds its shape beautifully, adding a touch of sophistication to your creations.
Vibrant and Festive Designs:
Our Wired Christmas Ribbon comes in an array of vibrant colors and festive patterns that capture the spirit of the season. From classic reds and greens to modern metallics and playful prints, our ribbon instantly adds a festive touch to any project. Create eye-catching displays and delightful gifts that will impress and enchant.
Packing: 100 yards/roll, 9mm, 2 colors
100% polyester, color fastness reaches grade 4;
Pass OEKO-TEX standard 100 every year.
REACH SVHC clear;
Versatile and Multi-Purpose:
Our Wired Christmas Ribbon is incredibly versatile, making it the perfect choice for a wide range of holiday projects. Embellish your home décor, wrap presents, create stunning DIY ornaments, or add a touch of elegance to party decorations. Let your creativity run wild with our ribbon that is perfect for any holiday endeavor.
High-Quality and Durable:
Crafted with exceptional quality in mind, our Wired Christmas Ribbon is made to last. The sturdy construction ensures durability, even in the busiest holiday season. Create long-lasting decorations and gifts that can be enjoyed year after year. Invest in quality and elevate the look of your holiday projects.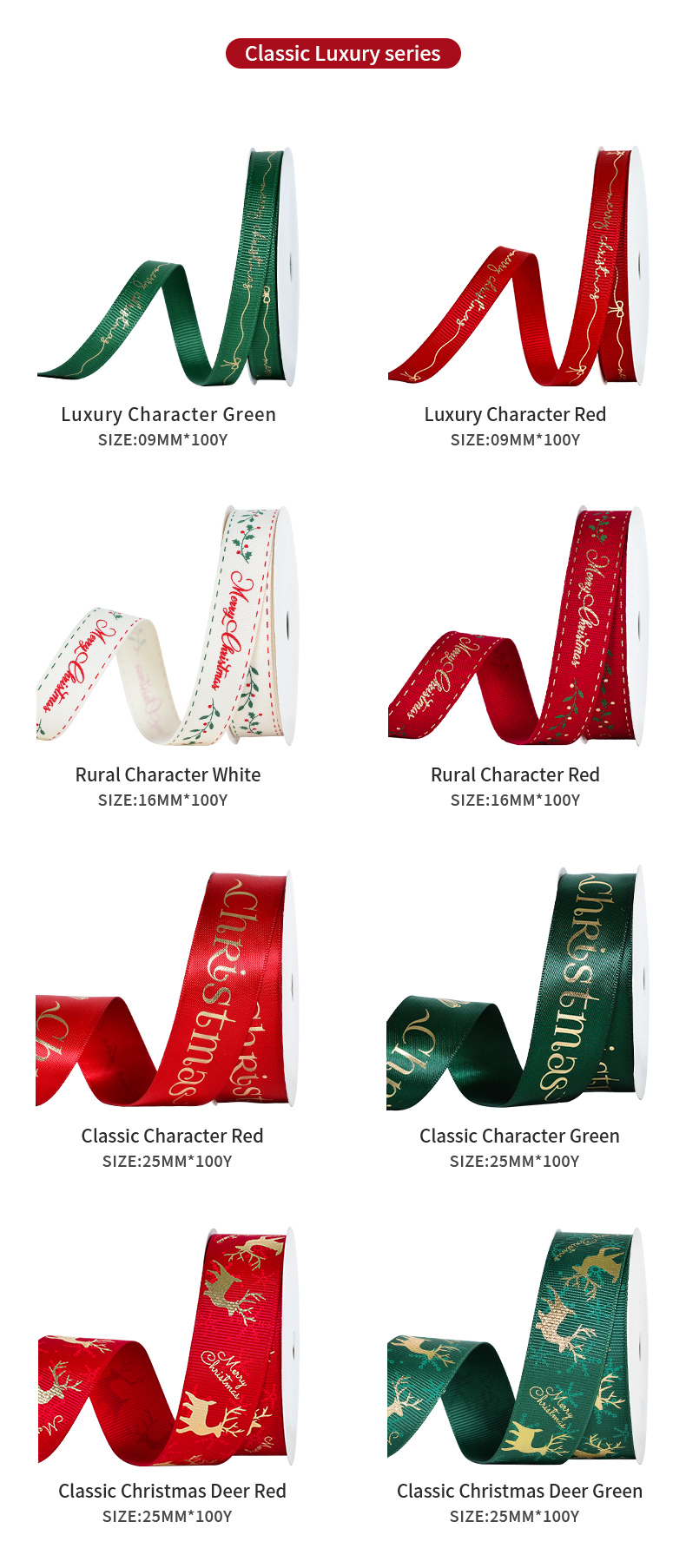 The texture of our Christmas Ribbon is smooth and manageable, allowing for easy cutting and handling. It glides effortlessly through your hands and tools, making crafting an enjoyable experience. Spend less time struggling with unruly ribbon and more time creating beautiful and magical holiday crafts.
Enhances the Beauty of Your Creations:
Our Christmas Ribbon instantly adds a touch of elegance and charm to any decoration or gift. The wired edges allow for precise bow-making and styling, giving your creations a professional and polished look. Stand out from the crowd with our ribbon that enhances the beauty of your crafts.
Suitable for Indoor and Outdoor Use:
Our Wired Christmas Ribbon is suitable for both indoor and outdoor use, allowing you to bring the holiday spirit to any space. Hang wreaths on your front door, embellish your fireplace mantel, or create stunning outdoor displays. Our ribbon is weather-resistant and designed to withstand the elements.