Yama Ribbon Stock 6-38MM Widths Eco-Friendly Soft Natural Twill Cotton Ribbon 28998
Elevate Your Projects with Twill Cotton Ribbon
Versatile Usage:

It is a versatile accessory for a variety of crafts and projects. Whether you're a DIY enthusiast, wedding planner, or fashion designer, our ribbons can be used for gift wrapping, flower arrangements, clothing decoration, and more. Its scotch twill cotton ribbon is an invaluable tool in your creative arsenal.
Sizes: 6/9/13/16/19/25/38mm
Package: 6mm 150 yards/roll, other sizes 100 yards/roll
Colors: 24 colors
Material: Cotton
Premium Quality:

The ribbons are made from the highest quality cotton fibers and come up for production. This ensures a soft and luxurious feel while also guaranteeing durability and longevity. We pride ourselves on supplying products that meet the highest standards of quality and workmanship.

Classic Twill Weave:

The ribbon is woven in a classic twill for a timeless and elegant look. The unique diagonal pattern adds a touch of sophistication to your project and enhances its overall aesthetic. Whether you are creating bows, trims or decorations, our ribbons will give your designs a sophisticated finish.
Vibrant Color Palette:

With an extensive range of vibrant colors to choose from, you can find the perfect shade to complement your project. From bold and vibrant tones to subtle and muted hues, our Ribbon allows you to express your creativity and add a pop of color to any creation.

Ease of Use:

Our Cotton Ribbon is easy to handle and work with. It can be effortlessly cut to your desired length, and its supple texture allows for easy tying and shaping. Whether you're a seasoned crafter or a beginner, our ribbon will make your projects enjoyable and hassle-free.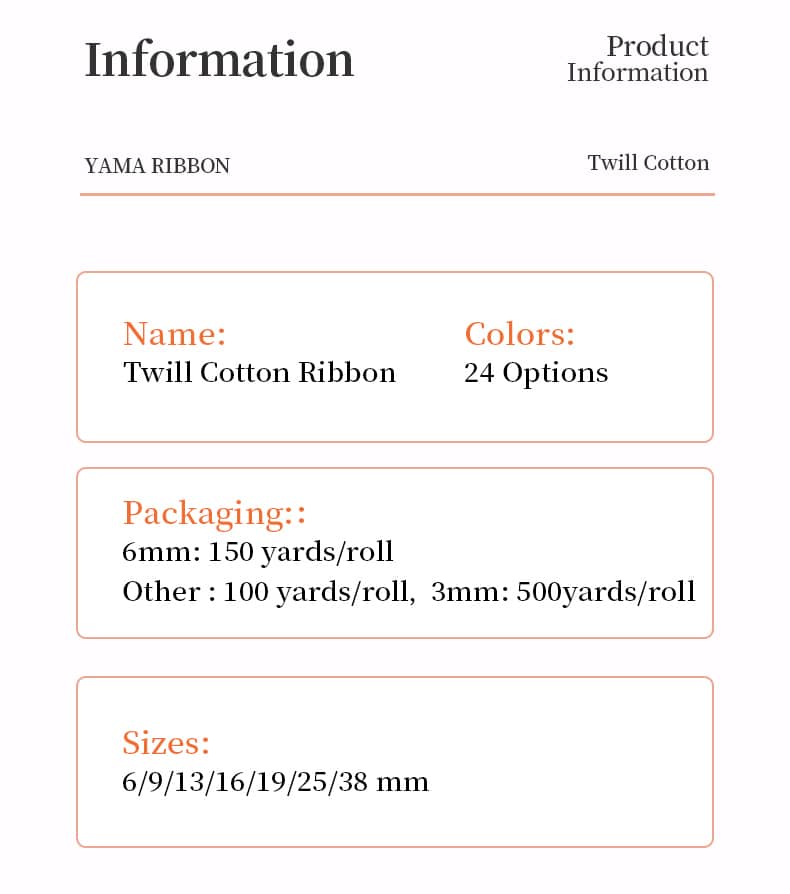 Conclusion:

Elevate your projects with the timeless elegance of Ribbon. From its versatility and premium quality to the classic twill weave and vibrant color palette, our ribbon is the perfect choice for all your creative endeavors. Browse our collection and discover the endless possibilities this ribbon brings to your projects.
Other premium products:Yama Factory 2.5Inch 63MM Width Customized Mixed Solid Colors Burlap Wire Edge Ribbon Christmas